Hello, fellow AG lovers! For Christmas last year, one of the gifts I recieved was Addy's School Outfit. Cécile proudly claimed it, and it looks very beautiful on her. This review is from the big Christmas Haul 2014 post my site. See the original post here.

"

And here are some gorgeous pictures of Cécile in the school outfit.




It looks like it is made out of a felt material, but it is really cotton.




The bows are actually combs! Just slide it into your dolls hair and it stays very well. 




Cécile loves to pretend she's a sweet young lady in Addy's time.




However when I tell her young ladies do not climb trees in dresses, she pouts!




"Cécile! Do not climb a tree in that dress! Young ladies say 'yes ma'am', remember." Cécile is unhappy as she climbs down, but then I let her stand atop of picnic table and she forgets all about the tree.




Isn't she beautiful?




So much detail was put into the dress. Looks very historically accurate to me, but I haven't done research on it.




Cécile is sitting on the table very elegantly, looking about the pleasant RV park.




She laughs when she looks at the melted handle of the little grill thingy. My dad let the lid hang over one side, and it concentrated all the heat on that one spot. Hahaha!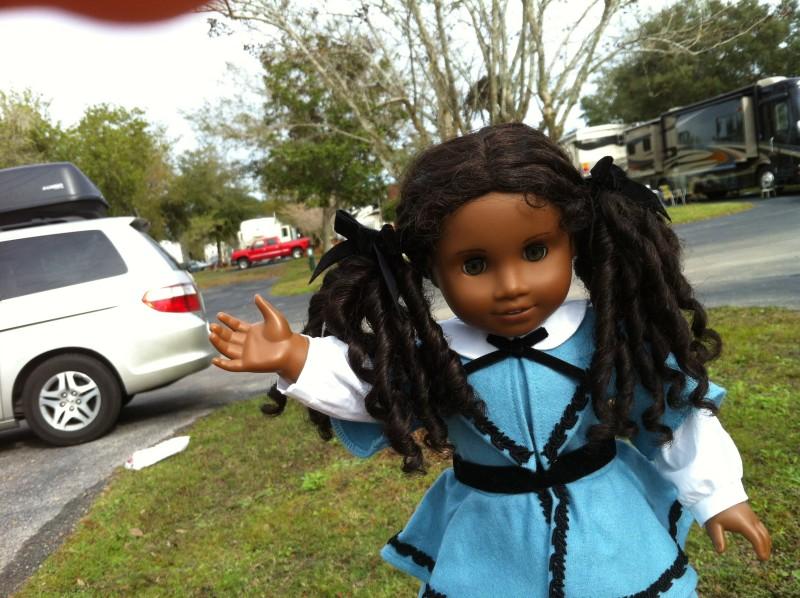 CéCé waves goodbye!"